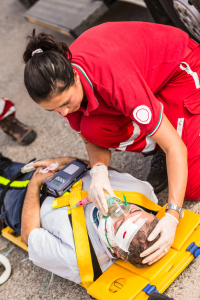 We are dedicated to helping you with your injury.
If you or your loved ones are involved in a serious injury or killed in an accident, you will need an experienced lawyer with the strength and skill set specifically equipped to meet your needs. At the KING LAW FIRM, PC, we understand that serious injury cases require a special type of attention and involvement.
Devoted and focused, Jimmy King will work to meticulously research the facts of your case in order to carefully assess the damages and help you and your loved ones withstand the rigors of an often long and difficult legal process.
At the KING LAW FIRM, PC, we have extensive experience in high-value injury cases. We are skilled, knowledgeable and determined to seek the best possible results for our client in every serious injury case we handle.
These types of cases may involve the following injuries:
• Spinal cord injury
• Traumatic brain injury
• Burns
• Amputations
• Wrongful death
• Other serious injury cases
An Attorney Strong in Compassion and Perseverance
If you have lost a loved one or they have endured a serious injury due to an accident, we understand the loss and anguish you may experience. Our compassionate team members will listen carefully to your needs and the details of your case, and we will translate this caring sympathy into perseverance and tenacity to bring your claim to a successful conclusion. Let our professional and proven experience work strategically for you and your family.
We know that money could never be enough to compensate you for your serious injuries or replace a loved one who is lost in a catastrophic accident. However, the KING LAW FIRM, PC, will work efficiently and effectively, knowing that our combination of compassion, perseverance and diligence sets us apart from our competitors. We can, and we will, make a difference in the lives of our clients.
Jimmy King's longstanding experience with serious injury cases has helped the KING LAW FIRM, PC, to develop a standard of powerful yet caring representation. We work with experts who can identify the extent of the injury and its long-term effects on the victim(s). Our team will carefully research all the relevant facts of your case to thoroughly understand your situation and fight for your rights. Our hard work will impact the success of your case to achieve needed results.
We accept most cases on a contingent fee basis, which means that attorney fees are collected only if we secure compensation for you and your loved ones. We have a long list of happy and satisfied clients and we would welcome the opportunity to talk with you about the specifics of your case.
Mr. King is a member of the distinguished Million Dollar Advocates Forum and the Multi-Million Dollar Advocates Forum, which are awarded to attorneys who have successfully handled cases with million dollar and multi-million dollar settlement results.
Answering Your Serious Personal Injury/Wrongful Death FAQ's
For your assistance, we have answered some frequently asked personal injury questions below. Please contact us with your specific questions for a thorough analysis of your personal situation.
The extent of your injury or injuries, the total amount of current medical expenses, lost wages, future medical expenses, future lost wages, pain and suffering experienced and the degree of impairment and/or restrictions that may be of a permanent nature. In a death case, several of these same factors are considered along with the loss experienced by the surviving spouse and/or family members.
First, you should be very cautious and reluctant to settle your case until you have received all of the necessary medical care and treatment to maximize your recovery. Your attorney should evaluate all future medical services that may be needed, along with any permanent impairment ratings. Once the attorney has a complete and thorough evaluation of your personal situation, they will begin negotiations with the insurance company as soon the attorney receives the final records from your medical providers. If your case is not settled, a lawsuit must be filed. In most South Carolina counties, it may take as much as twelve and eighteen months before your case goes to trial.
The length of time is governed by various statutes of limitations. In most cases, you will have three (3) years from the date of the accident or wrong doing. However, some cases may have a shorter limitation, for example: a law suit against a government agency requires that the law suit must be filed within two (2) years. We will evaluate your case to determine the relevant statue limitations once we determine all of the facts. This will enable us to properly advise you on our negotiating strategy and trial preparations.
Contact Us for a Free Consultation and Case Evaluation
Attorney Jimmy King is committed to providing clients with the answers and advice they need to make informed decisions about their serious injuries. You can expect straightforward advice and skilled representation at every stage of your case. For a free consultation and case evaluation with Jimmy King at the KING LAW FIRM, PC, please contact us at our Anderson office by calling us at 864-225-9155; Toll-Free at 1-888-827-9155 or by filling out a contact form. We have successfully represented clients with serious personal injuries throughout the state of South Carolina.