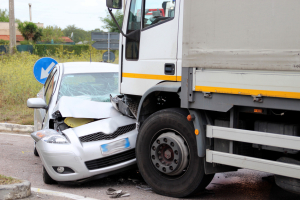 Dedication throughout a Devastating Accident
Automobile, motorcycle, bicycle or truck accidents can create a difficult and often devastating situation for all parties involved. If you have been injured in a serious accident, the KING LAW FIRM, PC, will fight for your rights and the compensation you deserve. We will work with you through this process to get you on the road to recovery as soon as possible. We know that a devastating accident can be extremely difficult for you and your loved ones, and we are committed to pursue all avenues of justice on your behalf.
Large trucks are needed to deliver goods and services all over the United States. Each year, commercial and tractor-trailer trucks are involved in numerous accidents. Unfortunately, when these trucks collide with a car, motorcycle, bicycle, or a pedestrian – results are often fatal. Tractor-trailer and commercial truck accidents are not treated as ordinary accidents. There are various laws and regulations that do not apply to normal automobile collisions. The trucking industry is highly regulated by state and federal laws.
As an experienced accident attorney, Jimmy King will match the seriousness of your accident with the highest level of representation in all of your legal needs. His fierce dedication in seeking and maximizing fair compensation are evident in his legal proceedings and the care he and his legal team will provide to you and your loved ones. Mr. King will work to ensure that you and your loved ones receive maximum medical assistance and the fully-valued compensation you deserve.
We accept cases on a contingent fee basis, which means that attorney fees are collected only if we secure compensation for you and your loved ones. We have a long list of happy and satisfied clients and we would welcome the opportunity to talk with you about the specifics of your case.
Mr. King is a member of the distinguished Million Dollar Advocates Forum and the Multi-Million Dollar Advocates Forum, which are afforded to attorneys who have successfully handled cases with million dollar and multi-million dollar results.
South Carolina Law sets strict limits on the amount of time you have to settle your case or file a lawsuit. It is advisable that you consult with an experienced attorney as soon as possible after your accident.
Contact Us for a Free Consultation and Case Evaluation
The KING LAW FIRM, PC has been providing experienced legal assistance to victims of serious automobile and truck accidents for more than 37 years. We are aggressive and tenacious litigators and skilled negotiators. We will obtain maximum recovery for you and your family. Please contact our Anderson office by calling 864-225-9155 or Toll-Free at 1-888-827-9155 today. We represent injured victims throughout the state of South Carolina.